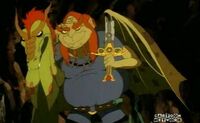 He is an elderly character on the island that sells Dagrons. He is also a sorcerer and created an armor that turns people into Dagrons. He is shown to be a mixture of Human and Dagron, and has a similarity to the Grinch, and Ganon. Voiced by the late Keen Curtis.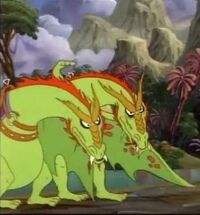 Dagrons are dragon-like creatures, mixed with wyvern and chinese dragons, only they are a beast of burden for Bloth and his crew mates, which includes Konk.
They have red fur on their necks and top of their heads.
They have worn out spots on their wings similar to Lord Maliss's Dragon forms wings from Happily Ever After.
Their screech sounds are similar to the Pterodactyls on "Dink the Dinosaur", "SWAT KATS", and other 90's TV series.