No higher resolution available.
Template:FileInfoTula is an exotic adventuress who finds her destiny in the elemental arts of Ecomancy.
She is a seventeen-year-old tavern wench who overhears Ren's talk of setting out in search of the Lost Thirteen Treasures of Rule. When she turned up as a stowaway on the stolen ship, the Wraith, she quickly establishes herself as an asset to the group.
While Tula as a warrior can hold her own against any man, she also has a deep, nurturing sensitivity towards the environment of her living planet, a sensitivity which--early in the series--develops into the elemental powers of an Ecomancer--one who can become one with the elements and manipulate them through intense concentration.
Visually this power is manifested in a St. Elmo's Fire that bathes her body and can be directed for the desired effect. However, she is not all-powerful. She can't just point a finger and manipulate things from afar. She either needs to be in contact with what she wishes to manipulate, or there must be some synaptic connection to the object through which her power can travel (like the branches of trees, or roots of plants).
As an Ecomancer, Tula has an uncanny affinity for animals. Perhaps that's why you can always find Niddler around her. (He has a slight crush on Tula.) Through sheer concentration she can tame (if only temporarily) the wildest beast. She can even get a Dagron to do her bidding. But these achievements take great concentration, and the stress of such an effort can leave her weak and vulnerable.
Despite these limitations, however, Tula's Ecomantic powers can serve as a godsend for our group, especially when they find themselves in desperate situations that can't be saved with a sword or arrow.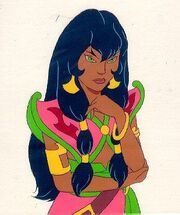 Appears on these pages

of
Tula is an exotic adventuress who finds her destiny in the elemental arts of Ecomancy. She is a...
See full list >
File history
Click on a date/time to view the file as it appeared at that time.
Ad blocker interference detected!
Wikia is a free-to-use site that makes money from advertising. We have a modified experience for viewers using ad blockers

Wikia is not accessible if you've made further modifications. Remove the custom ad blocker rule(s) and the page will load as expected.